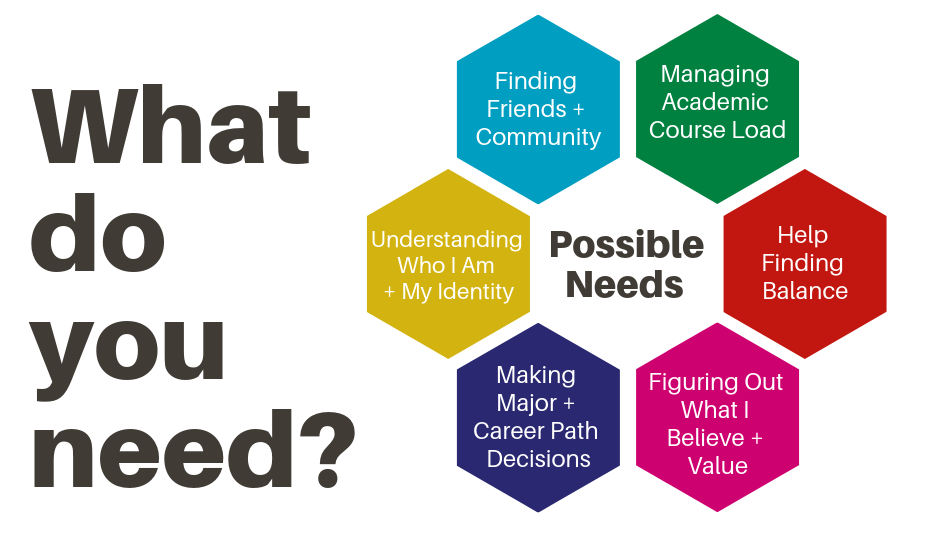 Consider what needs you may have before you identify who can best support you. What you need may be around getting connected to the Wake Forest community socially. Or, maybe you're grappling with decisions around choosing a major/minor or career path. Whatever your needs are, what's important is that they are yours and that you take the time to identify them.
Take a minute and write down 2-3 needs that you have.
Ask yourself:
Where are the areas in my life in which I'm struggling?
Where could I use some direction, wisdom, and guidance?

Now that you've identified what you need, download this worksheet to begin identifying who you can talk to about what you need. Also, this gives you an opportunity to determine any gaps in your network of people. Use the chart below for examples.

Roommate or suitemates
Peers with similar interests
Resident adviser
Student academic adviser
Trusted faculty or staff member
Resident adviser
Trusted faculty or staff member


Trusted faculty or staff member
Trusted friend or peer


Trusted faculty or staff member
Peers with similar religious or spiritual beliefs

BE INTENTIONAL
Reflect on your needs (step one) and the types of people/offices you need to talk to (step two)
Think about who you already know in those places
Make a list and identify where your gaps are
SEEK OUT AND SHOW UP
Ask for time with those you already know
Make an appointment, go to office hours, look for ways to engage with the offices/people who could fill your gaps
Keep your commitments: show up, on time, prepared to discuss your needs
BE SPECIFIC ABOUT YOUR NEEDS
Be prepared to share your needs (step one) and why they are important to you
Be prepared to share what you have already done to work on your needs
Be prepared to share why you think that person or office could help you
ASK QUESTIONS + SOLICIT FEEDBACK
Ask for feedback on the steps you are taking and what you can do next
Ask for guidance on other people or places where you can build relationships
Ask for time for a future conversation to continue to build the relationship
---











---
Special thanks to Zack Chan ('18, MSA '19) for contributing photographs to this project. He started photography in high school, eventually developing his passion for portraiture. He has photographed various events around the University and has been featured in Wake Forest Magazine, Wake Will Lead Campaign, and the University's Tumblr. Zack hopes he can use photography as a lens to share stories and bring people closer together. Zack will be working as a Audit Associate at KPMG in New York starting in the fall of 2019.