A single mentor is rarely one-size-fits-all for the different goals, roles, and developmental needs in your life. We all need multiple mentors, or rather a network of mentors, for the different challenges that we face. As we celebrate National Mentoring Month this January, consider the gaps where you need to be cultivating mentoring relationships to support you in your growth and development. We could all benefit from several mentors as we navigate our professional lives, make decisions about our career, and face challenges and opportunities personally.
Below, see the stories of Wake Foresters who have intentionally built mentoring networks to guide them throughout various aspects of their lives. Use their experiences to learn how to increase your own network of mentors. Additionally, check out our tips for how to find and seek out mentors as you grow your network and upcoming mentoring workshops for students, faculty, staff, and alumni.
---
Shelley Sizemore ('06, MA '09)
Director of Academic Programs, Pro Humanitate Center, WFU
Sam Salin ('14)
Senior Analyst at Hovde Group, Chicago, IL
Heather Bolt Mikeal ('10)
Leonard Ryden Burr Real Estate, Winston-Salem, NC
---
How to Find and Seek Out Mentoring Relationships
Most often, informal mentoring relationships develop organically out of previously-established interpersonal relationships with faculty, staff, alumni, colleagues, or peers. But it is also possible to seek out a formal mentoring relationship. Before you do, check out these tips for finding a mentor and spend some time thinking about the following questions:
What is your goal? What are you going to work on in this relationship?
What do you need to achieve that goal?
Who is best suited to fill that role? Someone you already know? Or, do you need to ask for recommendations?
After you have answered these questions and created a list of potential mentors, it is important to reach out and to assess the other person's interest. Talk about your goals and explain why you want to be in a mentoring relationship. Express your interest and the qualities that you are looking for in a mentor, and then ask the person if they would be interested and willing and would have the time to serve as your mentor.
If the answer is no, thank the potential mentor for his candor, and move on to the next person on the list. He is not saying no because he does not like you, but because he does not feel that he has the time or ability to commit to this relationship. The most important qualification of a mentor is someone who has the time, the interest, and the willingness to build a mentoring relationship with you. If the answer is yes, then you can begin the mentoring relationship.
So how might you find potential formal or informal mentors outside of the organically-developed interpersonal relationships that you already have? Consider using the following resources:
Formal Mentoring Programs at Wake Forest – A wide range of formal mentoring programs are offered at Wake Forest. Click here to get more information on each program and how to get involved.
WAKENetwork – WAKENetwork allows registered alumni, parents, and friends to maintain a closer relationship with Wake Forest. Features include a searchable directory of alumni, parents, and friends, Wake Forest news, and the option of a permanent WFU-affiliated email address. For tips on how to best use WAKENetwork, check out this webinar tutorial.
LinkedIn – Join the Wake Forest Alumni Group on LinkedIn to connect with over 15,000+ alumni from various career industries and locations. Our LinkedIn group is your go-to resource for building your professional network and relationships, and for reaching out to fellow Wake Forest alumni.
Finally, if you are a faculty or staff member, or in a mentoring role with students, check out our Quick Guide to Helping Your Students Build Their Mentoring Networks: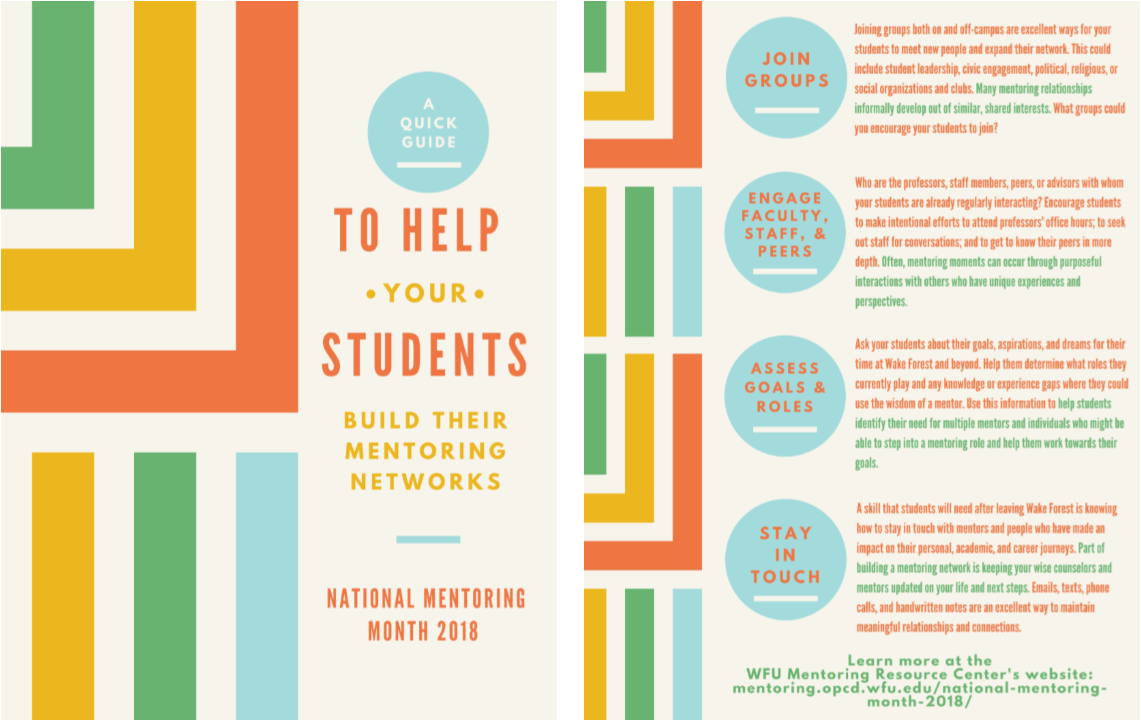 ---
Mentoring Workshops
The Mentoring Resource Center offers several opportunities for students, faculty, staff, and alumni to develop their mentoring skill sets and learn how to build their mentoring networks. Check out our upcoming programs below.
For Students:
Introductory Mentoring Skills: Mentoring and Leadership
February 13, 2018 | 4:00 – 5:30pm | Reynolda 301
Introductory Mentoring Skills: Build Your Mentoring Network
February 27, 2018 | 4:00 – 5:30pm | Reynolda 301
Introductory Mentoring Skills: Mentoring in Life After Wake
March 20, 2018 | 4:00 – 5:30pm | Reynolda 301
These workshops for undergraduate juniors and seniors are a part of a series of three workshops being offered in Spring 2018. Participants who attend two out of the three workshops (you must register through the PDC and attend the full sessions) will receive an Introductory Mentoring Skills Certificate from the Mentoring Resource Center. Click here for full descriptions of each workshop.
For Faculty/Staff:
Introduction to Effective Mentoring
February 6, 2018 | 2:00 – 4:00pm
At the conclusion of this course participants will receive the Introductory Mentoring Skills Certificate.
Mentor Leadership: Leading People and Teams
March 14, 2018 | 9:30 – 11:30am
At the conclusion of the course participants will receive the Mentor Leadership Skills Certificate. It is recommended that participants complete the Introduction to Effective Mentoring course before taking this course.
For Alumni:
Introductory Mentoring Skills Course (Online) – Coming in Late Spring 2018 – Stay tuned for more information on the Alumni Personal & Career Development Center website!