At Wake Forest we have a strong tradition of faculty-student mentoring that happens both within and outside of the classroom. It is part of that special Wake Forest experience that attracts all of us to this place. Faculty participate in formal mentoring relationships with students as a faculty advisor, as a Faculty Fellow, supporting research projects, leading study abroad, and leading student clubs/organizations or other experiential activities. Faculty also participate in more informal mentoring relationships through conversations during office hours, after class, or walking across the quad. We hope that you find the resources and information below helpful to you as you support our students in these roles. Missing something? Let us know and we will seek to provide that, too.
Download our Faculty Guide to Mentoring Student Projects to get started.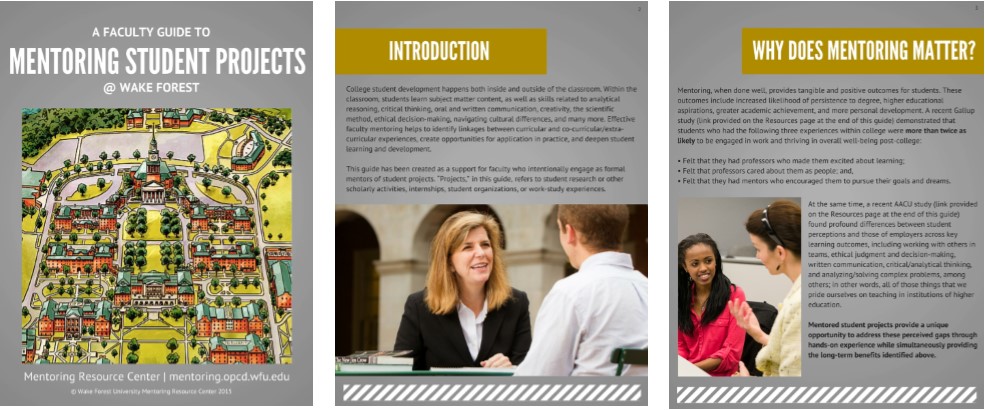 © 2015 Wake Forest University Mentoring Resource Center
Why Does Mentoring Matter?
Mentoring, when done well, has been shown to provide real, positive outcomes for students. These outcomes include
Increased likelihood of persistence to degree
Higher GPAs and completion of more credit hours
More satisfied with major and institution
More loyal alumni
More inclined to mentor others
Higher educational aspirations, greater academic achievement, and more personal development
Additionally, a recent Gallup study demonstrated that students who
felt that they had a professor who made them excited about learning,
felt that professors cared about them as a person, and,
felt that they had a mentor who encouraged them to pursue their goals and dreams
within college were more than twice as likely to be engaged in work and thriving in overall well-being post-college.
Clearly, effective mentoring has the potential to make a real difference in the lives of Wake Forest students! But what does effective mentoring look like?
Keys to Effective Mentoring
Effective mentoring is structured. Whether formal or informal, effective mentoring relationships should have defined expectations and goals. Talk with your student about the following:

How often will we meet? Who will be responsible for setting up meetings?
What are our expectations around confidentiality?
What does your student expect out of you? What do you expect out of her?
What will you work on together?
When will you check in with each other on the relationship?
Once you have clarified expectations, work with your student mentee to help her set 2-3 goals for the relationship. Then, create an agreement to outline these expectations and goals. You may find the following resources helpful:
Defining Relationship Expectations Worksheet
Mentoring Goals Worksheet
Mentoring Agreement Form
Effective mentoring is mentee-focused. Effective mentoring relationships are always built around the mentee's goals. Effective mentors are facilitators of their mentees' growth and development, pushing the mentee to take risks and to take intentional action towards defined goals. Effective mentors ask the question, "Where is it that you want to go, and how can I help you to get there?"
Effective mentoring is based on thought-provoking questions and objective feedback and guidance. Effective mentors ask more questions than they answer. They aren't there to "fix" their mentees' problems; rather, mentors ask questions and provide feedback based on the wisdom of their personal experiences to support their mentees' growth and development.
Effective mentoring creates learning opportunities for both partners. Mentoring relationships are rarely truly reciprocal. That being said, there will and should be learning moments for both partners. In addition to the goals that your student sets, both you and she should consider how you each are growing as result of the mentoring relationship. You may find the following Mentoring Learning Outcomes and Self-Assessments useful:
Mentor/Mentee Learning Outcomes
Mentee Beginning/Mid-Year Self-Evaluation
Mentee End-of-Relationship Self Evaluation
Mentor Beginning/Mid-Year Self-Evaluation
Mentor End-of-Relationship Self-Evaluation
You may also want to check out our Guide to Mentoring Around Cross-Cultural Experiences.