Kyle Tatich ('18)
Economics and Politics and International Affairs Double Major,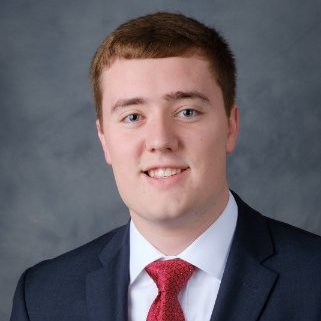 Spanish Minor
Mentoring Program: Richter Scholarship
Mentor: Dr. Christy Buchanan, Professor of Psychology and Senior Associate Dean for Academic Advising at Wake Forest University
How did you get involved with the Richter program and your mentoring relationship with Dr. Buchanan?
One of the primary reasons I chose to attend Wake Forest was due to its commitment to allowing undergraduates to pursue meaningful independent research projects with the guidance and support of a faculty mentor. And as I read about the different research opportunities offered by Wake Forest I was drawn to the Richter Scholars Program since it is one that often allows students to follow life-long passions in the realm of independent research. One of my lifelong passions has been the sport of swimming as it has been the activity that has shaped me into the person I am today, instilling in me certain values that have helped make me a better version of my self in all areas of life, including in the classroom. Thus, I applied for a research grant with the Richter Scholars Program to investigate if and how the sport of swimming can have similar positive effects in other parts of the world, just as it has for me here in the United States. More specifically, I wanted to investigate a non-profit organization in Nicaragua known as Nica Nadadores – a youth developmental organization that uses the sport of swimming to develop the next generation of leaders in its society.
Once I had the idea for my project, I needed to find a mentor who would find merit in the research I intended to pursue. Fortunately, the individual that I immediately thought of was more than willing to take me on as their mentee. This individual was Dr. Christy Buchanan. Dean Buchanan and I shared a unique mentor-mentee relationship throughout the entire Richter Scholars process as we traded the role of a mentor/coach on a weekly basis. Since the first semester of my freshman year, I have worked as a Masters Swimming coach for Enfinity Aquatic Club, a local team in Winston-Salem. Each Monday morning I have had the opportunity to coach adults in the Winston-Salem community, including Wake Forest professors and administrators such as Dean Buchanan. Last spring I would sometimes coach Dean Buchanan in the morning and receive guidance and support from her in her office later that same day. This mentor-mentee relationship was certainly unique, especially since we were offering guidance and support to one another on a weekly basis. As a swim coach I have developed an understanding of the importance of being a mentor to others and in turn was able to find value in the mentorship provided to me by Dean Buchanan throughout my research process.
Give an example of a significant conversation you've had with your mentor. What did you learn?
Perhaps one of the most significant conversations Dean Buchanan and I had was upon my return to the United States after spending three weeks in Nicaragua. We were discussing the conclusions I had drawn from my observations and interviews from the research process and found that I was seemingly quick to make assumptions on what was best for the Nicaraguan society in the context of lifestyle, education, and the impact a non-profit such as Nica Nadadores could have on its participants. Dean Buchanan and I discussed the importance of making conclusions with a "cultural lens" that would challenge me to look at my research from the perspective of a Nicaraguan, as opposed to the American that has its own preconceived outlook. I think this conversation had a significant impact on how I approached my written report and will also be something I remember when I pursue future research in cultures different from my own.
How have you benefited personally from being in a mentoring relationship?
As I mentioned before, being a mentee of Dean Buchanan helped me realize that I am a mentor to those that I coach each week in the pool. Since our mentor-mentee relationship began ten months ago I have since realized the importance of having an individual in your life who is enthusiastic and sincere about providing guidance and support in whatever you may be doing. Thus, I was thankful for Dean Buchanan's enthusiasm and sincerity in taking me on as a mentee, especially since she has so many responsibilities on campus. I am thankful for her sharing her expertise, time, and passion for mentorship with me over this past year.
It is my hope that I can use what I learned from the mentorship from Dean Buchanan to be a better mentor to those that I coach in swimming each week – whether that be the group of adults that I coach each Monday morning or the group of middle and high school students that I coach a few times each week.
What impact has this mentoring relationship (or with other mentors) had on your Wake Forest student experience?
I have been extremely fortunate to interact with a number of impactful mentors over my five semesters at Wake Forest. Dr. Tom Phillips of the Scholars Program has served as an impactful mentor to me, pushing me to take challenging courses that are sometimes out of my comfort zone as well as encouraging me to take advantage of my time as an undergraduate and travel and study abroad with Wake Forest as much as possible. Additionally, Dean Buchanan and her mentorship has been so important in helping me complete my first independent research project and as a result has inspired me to want to pursue other research opportunities in the future. Both Dr. Phillips and Dean Buchanan have been incredible mentors to me in my time at Wake Forest as they have challenged me to pursue unique opportunities while also playing significant roles in helping me discover my passions both in and out of the classroom.
Why is mentoring important to you?
Mentoring is important to me because I would not be who I am without the many mentors I have had in my life both in high school and here at Wake Forest. Moreover, without the mentors I have been blessed with in my life, I would have no idea how to be an effective mentor to those that also look to me for guidance and support.