Dr. Christy Buchanan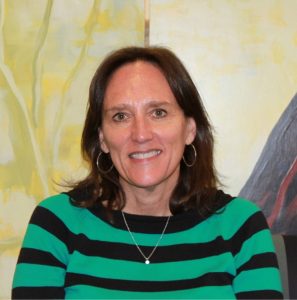 Professor of Psychology at Wake Forest University
Senior Associate Dean for Academic Advising
Mentoring Program: Richter Scholarship
Mentee: Kyle Tatich ('18)
Tell us about how you and Kyle first got connected.
I had the honor and pleasure of mentoring Kyle Tatich for a Richter Scholarship project.  The origins of our mentoring connection were unusual for me, as Kyle and I first met at the Wake Forest swimming pool rather than the classroom!  Before the reconstruction of Reynolds Gym led to closure of the Wake Forest pool, I swam on an adult (masters) "team."  Kyle was our Monday morning coach starting when he was a first-year student.
Through that experience, I came to know Kyle as a disciplined, smart, self-motivated, caring individual.  He was at the pool by 5:45am every Monday morning – and occasionally on other mornings if he subbed for another coach.  That is no small commitment for a college student!  Yet he showed up reliably, with a printed and detailed workout that he had written.  He was always so attentive to and encouraging of every swimmer in the pool, even those of us in the slowest lanes. His discipline and reliability, together with the kindness and care he exhibited to a bunch of older folks at this early morning hour, impressed me very much.
How did your mentoring relationship eventually form?
In addition to being coached by Kyle, I had many conversations with him before or after practice.  I learned about his academic interests, and that he was also disciplined, responsible, smart, and ambitious regarding his academic work.   From those conversations, he in turn learned about my interests beyond the pool, that I was a psychology professor who studied youth development.  Thus, when he had the idea for a Richter project that connected swimming and youth development, he asked if I would serve as his mentor.  I enthusiastically agreed.
What did you and Kyle work on together throughout the course of your mentoring relationship?
It was rewarding to see Kyle's project from its inception to completion. I enjoyed helping him turn his ideas and dream for working with a non-profit youth swim program in Nicaragua into a reality funded by the Richter Scholarship.  Kyle's hard work, cultural curiosity, and passion for swimming as a tool for developing self-discipline and confidence were inspiring.
Throughout the process, we had great conversations in person and by email about all kinds of topics:  about how extracurricular activities in general – and swimming in particular — might affect youth, about the link between extracurricular involvement and academic discipline, about conclusions that can (or cannot) be drawn from survey research data, about possible roots of and interpretations of cultural differences in behavior, about establishment and sustainability of non-profits, about the contrasts between life in a developed and a developing country, about effective written presentation of scientific results.  Kyle's eagerness to learn about all of these various aspects of the project, his work ethic, his openness to feedback made the mentoring experience a rewarding one for me.
What were the benefits of being in this mentoring relationship for you and Kyle?
I only hope that I have helped, encouraged, and inspired Kyle half as much with respect to this intellectual and cultural endeavor as he has helped, encouraged, and inspired me as a swimmer!