Main Content
Are you looking for an opportunity to serve as a mentor or to be mentored? Read below to learn about formal mentoring programs at Wake Forest, how to find your own mentor, and information on our Mentoring Certificate Program.
AAIG: Asian American Identity Group
The goal of the AAIG: Asian American Identity Group is to provide women-identified students at WFU an opportunity to find mutual understanding or communitas while unpacking what it means to be Asian American at WFU. By exploring different topics such as cultural expectations and beauty standards, AAIG will not only provide an educational space for students to discuss but also to build an Asian American student network for women. By sharing personal experiences, participants will be able to connect in both peer education and interpersonal relationship building.
Program Coordinator: Maria Martinez, Assistant Director in the Intercultural Center, (336) 758-5864
Art of Ministry
Art of Ministry is a required three-year course sequence that facilitates students' beginning formation in the life and work of ministry. The primary "text" of Art of Ministry coursework is experience: the life experiences students bring with them to theological education; the experiences in ministry internship placements that invite theological reflection on the practice of ministry; and the experience of God's presence and work in the communities of faith that minister to and with our students. The Art of Ministry program attends to three related sources of ministry wisdom: ministerial identity, ministry practice, and theological reflection.
Program Coordinator: John Senior, Director (336.758.5523)
CHARGE
Now in its 28th year, CHARGE is Wake Forest's flagship program for student leadership development. Seventy selected freshmen and sophomore students together with twenty upper-class mentors are able to share this ten-week leadership development experience each spring semester. The program format includes a  kick-off, retreat, weekly leadership labs, small group projects, mentoring and a banquet. Over the years many of the CHARGE student group proposals have been the catalyst for positive and concrete change at Wake Forest.
Program Coordinator: Dexter Sharp, Associate Director of Leadership Initiatives in the Office of Student Engagement

Double Deac Advising Pre-Med Program
Double Deac Advising is a pre-med advising program that connects undergraduate students with recent WFU graduates who are now medical students at the Wake Forest School of Medicine. Undergraduates are divided into small groups and assigned a Medical Student Mentor based on their interests and background. Medical Student Mentors are available to answer questions and give personalized advice based on their own experiences. Additionally, the program holds panel events in which medical students share their diverse experiences surrounding topics like the MCAT, research, gap years, and interviewing. Students in all stages of the pre-med process are welcome!
Program Coordinators: Abby McCall and James Miller
First Year in Focus
First Year in Focus connects first-year students with upper-class mentors for the first year of college. This one-to-one relationship opens doors for new friendships, helps first-year students successfully navigate the ins and outs of college life, and supports first-year students as they seek out a personally fulfilling experience at Wake Forest. To express your interest in the program, please complete this form. Although we will review and match interested students on a rolling basis, please submit your form by September 7.
Program Coordinator: Matt Clifford, Associate Dean of Students

The purpose of the M4 Initiative is to provide Black and Latino males an environment where they can explore their own ideas of masculinity, critical factors for college success, as well as build relationships with their peers through weekly dialogues, purposeful activities and fellowship.
Program Coordinator: John Williams, Assistant Director of the Intercultural Center, (336) 758-5864
Magnolia Scholars
Upperclass Magnolia Scholars serve as Magnolia mentors to first year first-generation students and also assist in the important aspects of transition to Wake Forest expectations and opportunities. The Magnolia mentors assist students in transitioning to Wake Forest in general, but their specific focus is on the academic environment.  Students engage their mentors in intimate settings where they are assisted in time management, understanding how to study, how to navigate the library and general concerns of student life. The Magnolia scholars also participate in "brown bag" lunches beginning with "What I wish I knew when I started at Wake Forest University."
Program Coordinator: Nate French, Director (336-758-3107)
Men of Color Discussion Group
The Intercultural Center holds a discussion group through the semester for men of color. Students meet with other men-identified students of color, build community and discuss their experiences at Wake Forest University. The Intercultural Ambassador's serve as peer facilitators for the discussion group.
Program Coordinator: John Williams, Assistant Director of the Intercultural Center, (336) 758-5864
Men's Soccer Mentorship Network
Led by a group of alums of the WFU soccer program, the Men's Soccer Mentorship Network is a resource available to current players who are seeking advice and guidance on transitioning out of Wake Forest and into the "real world." Several times during the season these alumni come to campus to talk to players about leadership, responsibility, and teambuilding; additionally, they have created online networks available to players who want to reach out for further conversation about personal goals and taking steps towards achieving those goals.
Program Coordinator: Eder Quintanilla, Director of Player Development, Wake Forest Men's Soccer Team
Pro Humanitate Institute Fellows Program
This program includes a highly selective cohort of student researchers pursuing independent community-based learning initiatives under the direction of faculty mentors, while also planning campus programs under a collective theme each year. Each PHI Fellow will work with a faculty adviser and and a PHI staff adviser to identify a community need, possibly partnering with a community-based organization, to develop an engaged scholarship project that culminates in a policy memo or other tangible product that directly assists a community organization or addresses the identified need. Student projects will address one of the PHI focus areas, which include Philanthropy, Global Service, Public Policy, Social Justice, Non-profit Capacity Building, and Advocacy.
Program Coordinator: Shelley Sizemore, Director of Academic Programs and Community Engaged Research, Pro Humanitate Institute (336.758.3705)
SPARC
SPARC stands for Students Promoting Action and Responsibility in the Community. During this pre-orientation week, students get to know their new community through service, learning about the issues our community faces, and meeting community partners that work regularly with Wake Forest students. If you have been dedicated to service or have a passion for service that you hope to explore in college, this program is for you! The program is organized by Service & Social Action (part of the Office of Campus Life). In addition to staff support, three seniors who have served as both SPARCies and SPARC leaders are chosen to Coordinate. In addition to the coordinators there are 18 upper class service leaders who serve as mentors. We accept 72 participants so that means that students are placed in a group of 4 with a mentor for the week. The mentor leads their group in service activities and is there to answer any questions about Wake, particularly about getting involved on campus.
Program Coordinator: Shelley Sizemore, Director of Academic Programs and Community Engaged Research, Pro Humanitate Institute (336.758.3705)

Student Advisors
Each year, incoming students are assigned both a faculty advisor and a student advisor. These upperclass peer advisors meet with students both in small groups and individually, starting on move-in day and continuing throughout the first year of college. Student advisors provide guidance on choosing classes, building a social network, and finding and connecting with resources both on and off campus. Student advisors work closely with faculty advisors and the Office of Academic Advising to develop academic plans that follow the values, goals, and career aspirations of the students.
Program Coordinators: Brandon Bost and Maggie Sheridan, Office of Academic Advising

Student-Athlete Mentoring
The vision for Student-Athlete Development is to connect student-athletes with the appropriate mentors or mentoring programs, whether that is through existing athletic mentoring programs, or mentoring resources outside of our department. Student-Athletes are encouraged to stop by the Student-Athlete Development office and learn about the variety of formal and informal mentoring programs.
Program Coordinator: Ashley Wechter, Student-Athlete Development (336.758.4609)
Summer Nonprofit Immersion Program
The Summer Nonprofit Immersion Program (SNIP) is a summer immersion program that brings together undergraduates at Wake Forest University with community partners to enhance both the learning of the student and the capacity of the nonprofit partner. The student participants selected are seeking scholarly, professional, and personal development through intensive work in the nonprofit sector.  Ideal community partners are able to provide committed mentoring and supervision to the student and a work plan that enriches the capacity of their organization while connecting to the student's academic and/or professional interests.
Program Coordinator: Shelley Sizemore, Director of Academic Programs and Community Engaged Research, Pro Humanitate Institute (336.758.3705)
URECA (Undergraduate Research and Creative Activities) Center
The Undergraduate Research and Creative Activities Center is about "promoting and celebrating" mentored scholarship. Undergraduate research has been a longtime cornerstone of the College's commitment to academic excellence. URECA's goal is to provide undergraduate students the opportunity to engage in mentored or independent scholarship. For photos and updates, check the URECA Facebook page.
Program Coordinator: Contact Tammy Burke Griffin in the Office of the Dean of the College for more information.

Wake Forest Fellows, Office of the President
The Wake Forest Fellows program provides outstanding recent graduates with the opportunity to work in higher education administration in a year-long post-graduate internship. Fellows interact with key administrators and faculty, learn about various administrative areas of the University, and participate in a series of leadership lunches and enrichment activities with leaders in the Wake Forest and greater Winston-Salem community.
Program Coordinator: Marybeth Wallace, Special Assistant to the President (336.758.4684)
WE3: Women Encouraging Empowerment through Exploration
WE3: Women Encouraging Empowerment through Exploration, is a collaborative, nine-week discussion group that brings together students that identify as Latina and Black women and welcomes all intersecting identities.  Participants will have thought provoking conversations, while learning from one another as well as Wake staff and faculty facilitators.  The program is designed to affirm students' innate worth as women, validate students' value as members of the Wake Forest University community, and propel them toward becoming successful, well-informed and well-adjusted members of society.
Program Coordinator: Intercultural Center

Women of Color Discussion Group
The Intercultural Center and Women's Center hold a discussion group through the semester for women of color. Students meet with other women-identified students of color, build community and discuss their experiences at Wake Forest University. The Intercultural Ambassador's serve as peer facilitators for the discussion group.
Program Coordinator: Intercultural Center
Worldwide Wake Leadership Team and Program Assistants
Worldwide Wake is a 4-day pre-orientation program for first-year students designed to expand cultural horizons and help them become more effective global citizens. Helping facilitate a variety of activities geared towards creating a vibrant and accepting global campus culture is a Leadership Team of 2-3 students and approximately 20 upperclassmen. This group serves as mentors for new students and offers in-depth understanding of the academic and social scene at WFU by providing personal insights and experiences.
Program Coordinator: Sandra McMullen, Assistant Director for Global Campus Programs (336.758.4889)
Not sure if one of the formal mentoring programs at Wake Forest is the right fit for you, but still want to find a mentor? Take the initiative to seek out a mentor (or mentors) who align with what you're looking for.
Consider identifying a faculty or staff member, alumnus, internship supervisor, or older peer who may be a good fit to serve in a more formal mentoring role with you. Think about: Who is that person you naturally go to for advice when you need to make a decision? Who is someone you look up to as a role model? Who is the person you admire or aspire to become? These are great potential mentors, and they may already be serving in that role, without either of you realizing it.
Some questions to ask yourself, before you ask someone to be your mentor: Why do you want them to be your mentor? What are you willing to do, as part of the mentoring relationship? What are your expectations for the mentoring relationship? Be as specific as possible. Only after you have specific answers to these questions should you approach them and ask if they are willing to engage in a formal mentoring relationship with you.
Looking for more information? Check out this guide on Tips for How to Find a Mentor.
The Mentoring Resource Center, in partnership with the Wake Forest Professional Development Center (PDC), is offering a Mentoring Certificate Program featuring courses on effective mentoring and coaching practices.  We offer both a course on Introduction to Effective Mentoring and Mentor Leadership: Leading People and Teams. Visit the PDC website and search by "mentoring" to find the most up-to-date list of course offerings.
The following Wake Forest faculty and staff members have completed the Introductory Mentoring Certificate: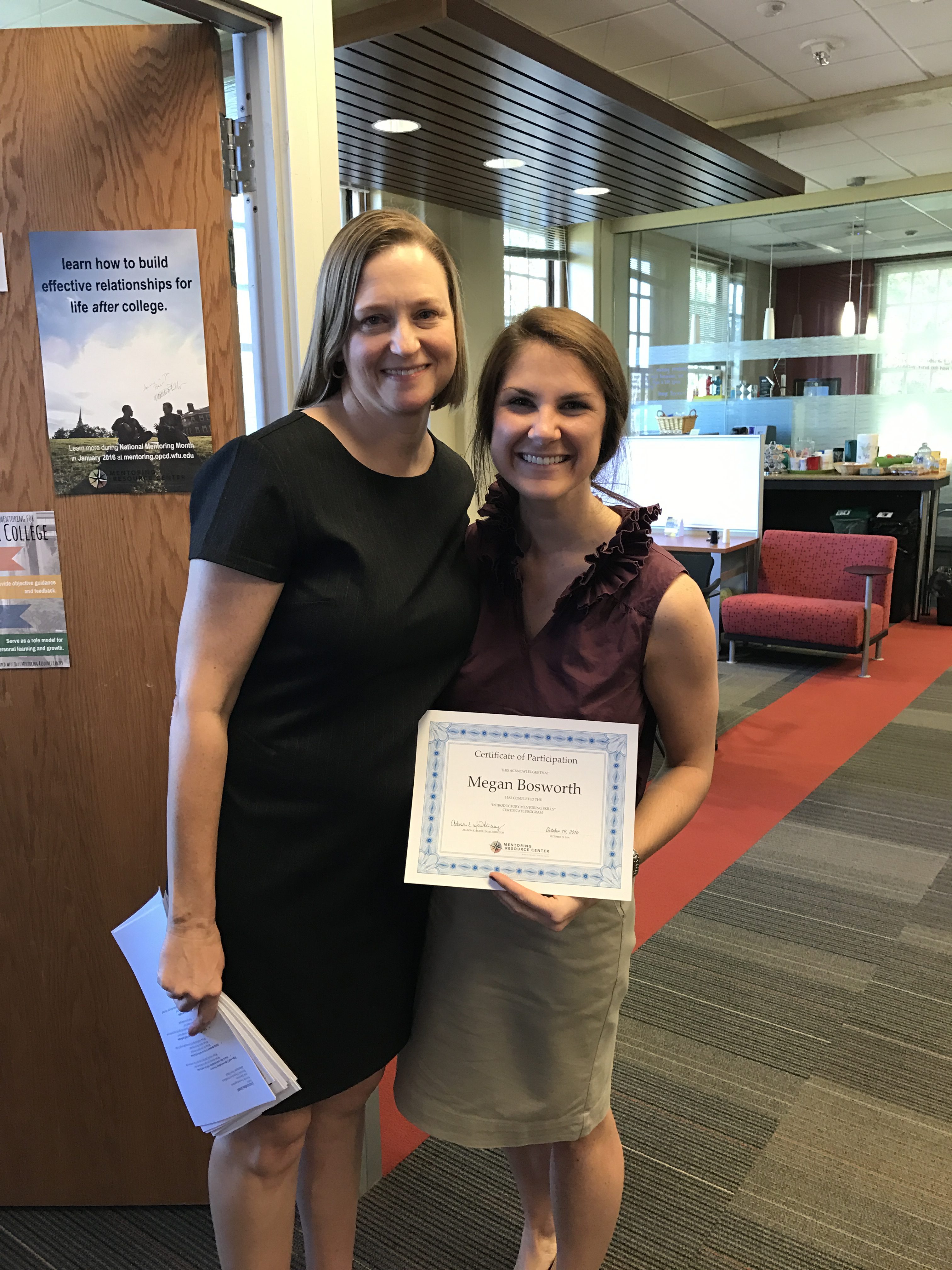 Steve Adams (Athletics)
Dr. Irma Alarcon (Romance Languages)
Shannon Ashford (Diversity & Inclusion)
Molly Bachand (Athletics)
Adam Bernot (Residence Life & Housing)
Megan Bosworth Hoyt (Office of Personal & Career Development, Alumni Engagement)
Briana Brewer (Student-Athlete Servicse))
Shawn Brodie (Facilities)
Karen Brown (Student Financial Services)
Richard Browne (School of Business)
Jane Caldwell (Student-Athlete Services)
Kevin Cook (Graylyn)
Lauren Corbett (ZSR Library)
Jamie Costello (Student Financial Services)
Dr. Kim Creasap (Sociology)
Richard Creed (Information Systems)
Matt Creeron (Athletics)
Dianne Dailey (Athletics)
Elizabeth Dam-Regier (Human Resources)
Bethany Davoll (Athletics)
Jennifer deGuzman (School of Business)
Shaun Elliott (Diversity & Inclusion)
Dr. Michael Fitch (WFBMC)
Lauren Formica (Global Campus Programs)
Cherie Fu (School of Business)
Jake Gellar-Goad (Wake Forest Scholars)
Dr. Ted Gellar-Goad (Classical Languages)
Cagney Gentry (Department of Communication)
Dr. Semsa Gogcu (WFBMC)
James Gravely (University Police)
Tammy Griffin (Office of the Dean of the College)
Vicki Keslar (Office of Personal & Career Development)
Dr. Jaira J. Harrington (Anna Julia Cooper Center Postdoctoral Fellow, Department of Politics and International Affairs)
Linda Higgins (School of Business)
Luci Hill (Athletics)
Jenny Howard (Biology)
Pat Idol (Information Systems)
John Idzik (Office of Personal & Career Development)
Sonya Izzard (Financial and Accounting Services)
Dr. Melissa Jenkins (English)
Dr. Angela King (Chemistry)
Kelly Kohns (Advancement)
Willie Lennon (Facilities)
Dwight Lewis (Student-Athlete Services)
David Link (ZSR Library)
Kayla Lisenby (LGBTQ Center)
Mary Beth Lock (ZSR Library)
Colleen Lofton (Women's Center)
Jessica Long (Office of Personal & Career Development)
Jason Lowe (Athletics)
Andrew Mann (Athletics)
Dr. Anthony Marsh (Dean's Office)
Janet Martin (Facilities)
Susan McFadyen (Financial Services)
Dr. Paige Meltzer (Women's Center)
Brian Mendenhall (Office of Personal & Career Development)
Liliana Mendoza-Batista (Department of Spanish & Italian)
Jessie Merckle (Student-Athlete Services)
Rev. K. Monet Rice (Chaplain's Office)
Jamie Montgomery (Athletics)
Beth Montplaisir (Safe Office)
Roxann Moody (Athletics)
Lynn Morgan (Athletics)
Pam Moser (Research & Sponsored Programs)
Thela Muhammad (Facilities)
Caroline Neil (Student-Athlete Services)
Mike Odom (Athletics)
Ashley Owens (Residence Life & Housing)
Courtney Owen (Athletics)
Jennifer Pilcher (Graylyn Conference Center)
Natascha Romeo (Health and Exercise Science)
Kara Rothberg (Global Programs)
Maggie Sheridan (Academic Advising)
Kimberly Snipes (Global Academic Development)
Leslie Spencer (University Theatre)
Derri Stormer (University Police)
Anthony Tang (Alumni Engagement)
Christopher Taylor (Information Systems)
Brooke Thomas (Athletics)
Lauren Trethaway (Financial Aid)
Dr. Michelle Voss Roberts (School of Divinity)
Ashley Walker (University Advancement)
Bree Watts (School of Business)
Ashley Wechter (Student-Athlete Services)
Kristin Weisse (Student-Athlete Services)
Steven Wicker (Instructional Technology)
Kimberly Widener (Student Financial Services)
Tim Wilkinson (Student Engagement)
Rachel Wilson (University Counseling Center)
Craig Zakrzewski (Athletics)
The following Wake Forest faculty and staff members have completed the Mentor Leadership Skills Certificate:
Lauren Beam (Office of Personal & Career Development)
Megan Berlinger (WFBMC)
Megan Bosworth Hoyt (Office of Personal & Career Development, Alumni Engagement)
Shawn Brodie (Facilities)
Lauren Corbett (ZSR Library)
Jamie Costello (Finance and Administration)
Jennifer deGuzman (School of Business)
Shaun Elliott (Diversity and Inclusion)
John Friedenberg (Department of Theatre and Dance
Jake Gellar-Goad (Wake Forest Scholars)
James Gravely (University Police)
Lynn Hall (WFBMC)
Sonya Izzard (Financial Services)
Dr. Amanda Jones (Chemistry)
William Link (ZSR Library)
Mary Beth Lock (ZSR Library)
Jessica Long (Office of Personal & Career Development)
Andrew Mann (Athletics)
Dr. Anthony Marsh (Dean's Office)
Janet Martin (Facilities)
Sandra McMullen (Global Programs & Studies)
Dr. Paige Meltzer (Women's Center)
Brian Mendenhall (Office of Personal & Career Development)
Jonathan Moore (ZSR Library)
Thela Muhammad (Facilities)
Caroline Neil (Athletics)
Derri Stormer (University Police)
John Turner (Advancement)
Ashley Walker (Advancement)
Kimberly Widener (Financial Services)